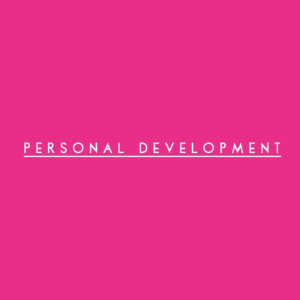 Why are we passionate about Personal Development?
Personal Development is key, from developing an individual's confidence to their overall career development, we are passionate about helping people raise the bar and to become their very best.
We work on a variety of 'personal development' projects with our customers and because each individual has their own unique challenges we will create new content to support these.  Life is short and to be able to live your fullest life is such a gift, we will help you to do that through our coaching, training and sharing experiences.
Why consider support with Personal Development?
Wellbeing
Wellbeing is a core focus of our Personal Development support. There are many different ways we will provide you with support including:
Developing Confidence
Building Resilience
Helping you find the Perfect Balance
Overall support with Health and Happiness
Purposeful Living
Helping individuals to live life to the full is amazing! By helping you to discover your purpose, we can turn your frustration into excitement and pave the way for you finding clarity over the choices and decisions you make.  Everyone has a purpose, sometimes it just takes longer to discover it.  Why do you do what you do? Are you unsure?  This is where having a clear purpose will transform your approach to your life, your career and your relationships.
Insights Discovery Personal Profiles
Insights Discovery is a tool we use for many different areas of Personal Development, its foundation is to help individuals gain a sense of self awareness. It's a brilliant tool that can kick start self awareness, a greater focus on goals and a clearer action plan of areas to work on.  It will provide you with a comprehensive profile with information regarding your:
Decision Making
Communication Style
Possible Strengths and Weaknesses
Suggestions for Development
How To Deal With Your Opposite Type
Coaching
Whether you have a specific issue you want to overcome or simply want to have a conversation about your life or career we love coaching individuals.  Coaching provides you with an external perspective, it will challenge the way you think about things and make you dedicate time to yourself.  More often than not, we put others ahead of ourselves, coaching turns the focus back to you and can be life changing.
The model we use in our coaching is detailed below:
G – GOAL: Getting clear on your goals and outcome is the first step of coaching
R – REALITY: How close or far away are you from your goal?
O – OPPORTUNITY: What opportunities can you take/make to achieve your goal?
O – OBSTACLES: What obstacles are holding you back?
W– WILL: What action(s) will you take as a result of the coaching session?
360 Feedback
Sometimes to be at your best you need to seek out feedback from those around you. We can arrange for a feedback profile so you can find out where you are working well with colleagues and where you may want to improve. If you would like to see the format we use we would be more than happy to send you a sample copy.
Development Planning
Prior planning prevents poor performance – putting a plan in writing provides accountability that merely talking it through doesn't. We can support you to formalise a plan for your growth and development and put in place check points to help you to achieve your goals.
We would be delighted to support you, if you would like to learn more please contact us and we can arrange a good time to talk through your enquiry.