How are you feeling? It's important to be asking that question to those around you. I asked it to my webinar attendees yesterday morning, responses ranged from anxious, worried, concerned right through to positive. I have personally been in a slight daze and wanting to keep mega busy this week…such a surreal feeling has engulfed me with everything that is going on. There is an underlying determination in me to do what I can and I have been really heartened by the community spirit and how people have pulled together. With the situation changing rapidly in the last week, the face of the UK and world as a whole is altering at a rate of noughts. In a country where we have been afforded an amazing amount of freedom, suddenly we are thrown into uncertainty, turmoil and a possible lock down. If anyone had suggested this 12 months ago I would have asked them what Netflix series they had been watching and never would have believed it.
I have to admit a couple of weeks ago I was somewhat complacent that we would ride the wave of the dreaded CV much better than other countries, no logic behind my reasoning just blind faith and hope that it would be easier for us. Perhaps it is because in my lifetime we have never experienced anything like this and that fuelled my disbelief. Perhaps what I was doing was avoiding the thought of what was to come, who knows? I am observing people act from a place of fear and safety right now which is totally understandable survival instinct is kicking in. All the panic buying and fanaticism over toilet roll is coming from that place. People are worried they won't have enough supplies to wipe their bum or feed their children and family and thus buying way more than they actually need.
My best friend has been experiencing the impact of CV (I for some reason can't bring myself to type the whole word or acronym out??!) in Hong Kong for the last few months. Whilst we have kept in touch regularly I haven't for one minute properly understood the challenges she has been facing, teaching her students from home whilst being in the latter stages of pregnancy. She gave me great insight into the fact there are two key epidemics going on the CV itself and the Mental Health epidemic that accompanies.
There are so many personal implications that you will be facing too, the big elephant in the room, the thing we really don't want to consider is the people close to us getting seriously ill. We need to all keep as many people safe and well as possible. It has to be our number one priority. My aim over the coming months is to keep as many people safe and sane as I can, including myself in that bracket.
We are experiencing the two pronged attack of the health risk as well as the accompanying economic crash. This leaves many people in a place of sheer desperation and fear because our basic safety and security is at risk. I think it can be really helpful to understand why we are feeling increasingly anxious and uncertain without us dwelling on it for too long.
For those of you who know me and know my approach to life I am always looking for a solution, a what can we do to solve the problem type approach. What can we do about all of this? I am passionate about helping people to respond effectively, to help people to build the needed resilience so that we can come through this stronger.
When we induce the stress response which most of us are in right now – fight/flight often comes into play. Will you lean in or run away? I recently learned a little more about another couple of F's in the stress response/survival instinct mode known as flock and freeze (Thanks Gavin Oattes). We are seeing people act as a pack, follow patterns of behaviour they see in their peers. Also, in freezing, by not knowing what way to turn and thus feeling paralysed. If we can focus on ways to centre ourselves more in this moment it can help how we feel, how we support others and our outcomes.
A concept which is great for considering how you can respond is called The House of Four Rooms. It's based on an Indian Proverb and was brought to life by Rumer Godden. She said we are all a house of four rooms and we need to enter each room each day to be in a centred and healthy place. Even if we just enter each room once a day to air it. We all need to try and be as grounded as possible acknowledging that we will experience a rollercoaster of feelings. So let's explain the House of Four Rooms. These rooms include:
Mental: Thoughts, beliefs and inner self talk all characterise the mental room.
Emotional: Feelings manifest primarily in two key areas of your body – stomach and chest. How do you manage your emotions?
Physical: crucial to this room is basic physical needs, food, rest, comfort, intimacy, exercise
Spiritual: do you have a purpose? Are you self-aware? Are you living in the present.
Which of these rooms would you go into most often throughout your day?
Where do you neglect? How could you air this room more often?
Most people right now may find themselves in the mental or emotional room a lot of the time…stepping into all four rooms now is really important. Getting fresh air and getting out of your head is key. Motion can create a different emotion. Free tools like mindfulness and meditation are amazing to tap into too they induce the relaxation response which will help bolster you right now. There are free apps (Headspace, Calm, Insight Timer) and so many youtube resources out there.
I created a video a while back on the House of Four Rooms concepts so feel free to have a little watch: https://www.youtube.com/watch?v=hi07O35agRU&t=9s
What I am hugely heartened by right now are the acts of sharing, kindness and good old community spirit that are being shown. People offering to pick up shopping, go to the chemist, dropping off cakes for frontline workers, sacrificing bread for someone who really needs it, teachers offering support, companies providing free food for NHS workers. Is it that we would have chosen this pandemic 100 percent not! Is it teaching us something positive? I really hope so! The below quote really resonates with me right now.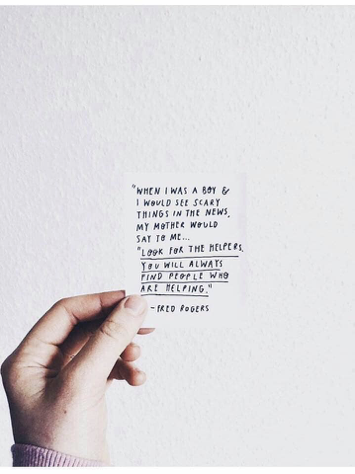 If you want to chat, get access to more resources please get in touch at: info@brightsideinspiration.com or 07985-175457. I am 100% here to help and would love to connect.
Please take care and look after yourself and those around you. Go easy on each other right now people are coping in different ways, every emotion is natural. Take one positive next step, don't put huge expectations on yourself and take it day at a time.
Karran x