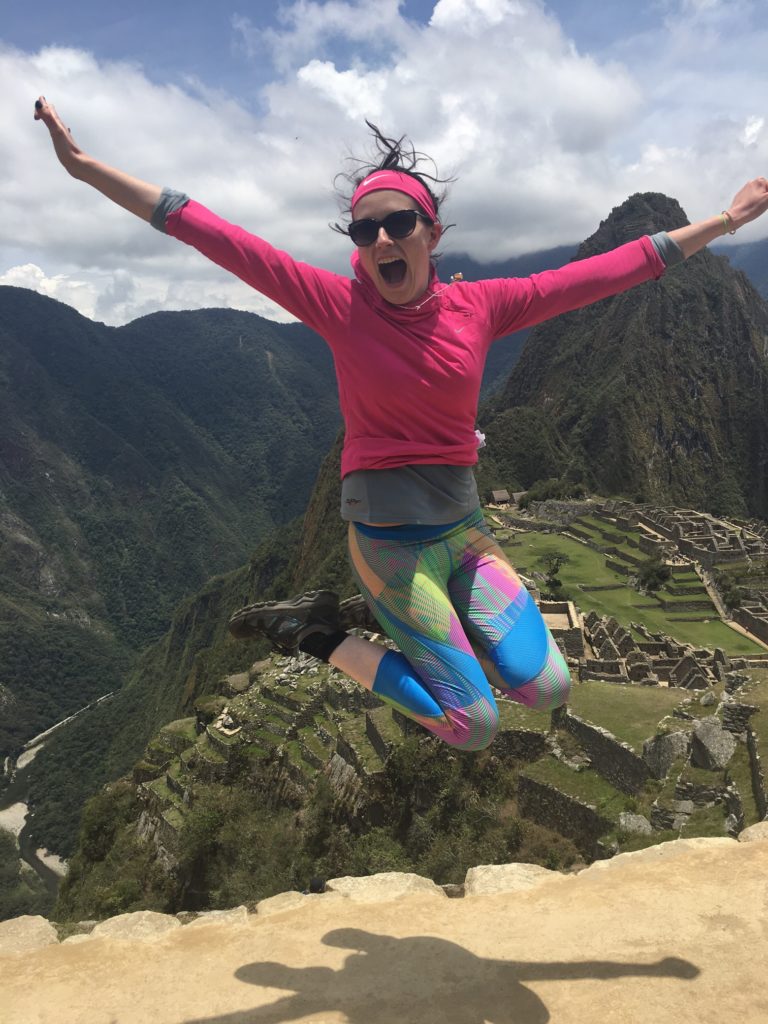 24/10/2016 – Edinburgh Airport
Today is the first day of my Peru adventures – eeeeek!
I am sitting in Edinburgh Airport with equal measures of nerves and excitement.
I am off to do something I have wanted to do for so long, since I was in South America in 2007 in fact, the Inca Trail to Machu Picchu or as my Grandma fondly named it Manchy Panchy!
A 20 hour travel via Paris and Bogota is ahead. I am every bit the epitome of the novice traveller, picture the scene: Peru lonely planet, waterproof jacket and walking boots in tow.
The adventures await, if you fancy following my travels pop back over the next few weeks. I will be keeping the blog up to date when I can.
So long Scotland!
25/10/16 – The Journey and Lima
I have arrived safely. Thanks to everyone for their well wishes it has been fab to hear from everyone. I had a great journey. A near miss of my flight from Paris to Bogota and landing without my rucksack are mere details now I have arrived in Peru. I am hoping my luggage turns up though otherwise my travelling light will be taken to a new level!
I was feeling really nervous before I got here but it's great to have started exploring today and to be here. All the months of anticipation and I am here. The time difference saw me up with the lark and head out just after 8am to explore Lima. I had walked 5 miles before it was 10am. For those of you who know me well, you will know directions are not my thing, and I am proud to say I haven't got lost once! Lima is a mix of traditional culture and modern hustle and bustle that you would experience in any city around the world. Colourful buildings and countryside make this city an interesting place to start the journey. I visited a couple of museums today, Museo des Artes was definitely my favourite. Some amazing artwork and lots of buzz with tours and school trips.
I then decided to go on an official tour run by my accommodation, so more walking around the city and great to hear about some of the 5000 year history that can be found here. It was great to hear other people's stories of their South American adventures and definitely made me felt like I am starting to settle into the travelling adventures.
Tomorrow sees me move on to the next part of my journey when I fly to Cusco. I will spend a few days there to acclimatise before the Inca Trail itself. I am so excited to go to Cusco as I have heard so many good things and it's where I am going to start the long awaited Inca Trail.
I am hoping WIFI is still good and I will let you know how I acclimatise to the altitude. Bring it on 🙂
Adios Amigos 🙂
27/10/16 – Cusco
So I had an eventful start to the trip, losing my bag and waiting for it to be delivered before my flight to Cusco. I had to miss my first flight to Cusco but great news is I am now reunited with all my gear for the Inca Trail and have been enjoying my first coupe of days in Cusco. Cusco sits at 3400 metres above sea level and you are warned about the altitude sickness before coming here. I am mega lucky that aside from feeling a bit tired and sick yesterday I have adjusted well and this gives me reassurance for starting the trail. I love the feel of Cusco, a mix between Spanish Colonial town, ski resort (without the snow) and bustling market town.
I have been exploring Cusco on foot, today walking six hours. I joined a walking tour which was great for meeting different people and finding out about the Cusco history and culture from a local perspective. I loved the Inca museum, totally in awe of the cleverness of the Incas and everything they created. My amazement will culminate in reaching Machu Picchu next week. I leave on Sunday, it's getting close.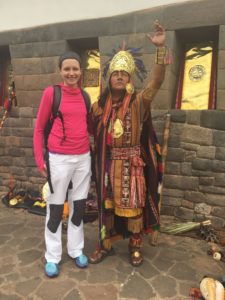 A great addition to our tour meeting this Inca warrior!
He played us some great music and kindly obliged for a photo opportunity.
Tomorrow I plan to go on a wider city tour and Saturday is all about final prep and briefing meeting for the Inca Trail.
It's been a great experience so far and I am already 4 days in. I have felt the time difference waking up at stupid o'clock every day (we are 6 hours behind GMT here) but to my advantage it has given me loads of time to see things. I remember when I was travelling years ago I took a wee while to get used to being away and I think the journey of doing this myself has left me feeling a tad homesick! It has been great to push me in a different way out of my comfort zone. I have done a lot of difficult things personally and business wise over the last few years but this is a different experience. It's been liberating leaving my straighteners and make up at home and going back to basics.
I have loved the challenge of the experience so far and have even been using a little Spanish I have taught myself!  Si, chocolate caliente, banos, por favour, gracias, este and ese! As you will be picking up, I am almost  fluent!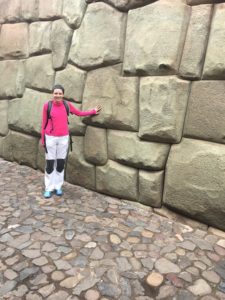 The stonework in this photo here brings back fond memories of my Grandad who was a brilliant Drystone Dyker.
He  would have loved some of the structures here.
Peru thank you for the adventures so far and can't wait for what is to come.
Love from Cusco 🙂
29/10/2016 – Inca Trail Eve
I am so excited to be starting the Inca Trail tomorrow WOOHOO! This is the main part of this adventure for me and again I am feeling a mixture of excitement and nerves. I have wanted to do the Inca Trail to Machu Picchu for so long and it's finally here.
I have just had the briefing meeting and I am feeling set for the 5.30am departure and off we go. We are assured that day 1 is fairly easy, with days 2 and 3 being toughest and high altitude and day 4 we arrive and see Machu Picchu.
I will be uploading an update and photos once I have recovered next week. It will be different being off line for four days and looking forward to everything the experience will bring. I then plan to stay longer in Cusco and do another trek to Rainbow Mountain and see some more of the sights before visiting some more of Peru.
Bring on the Inca Trail, so excited.
Adios!
03/11/2016 – The Inca Trail
WOW what an experience! Can't believe I made it and have been to Machu Picchu. Sitting here now the day after reflecting on it all and it's crazy how quickly it all went by. It was a journey both tough and amazing all rolled into one so I have decided to split it down into days not only to share with you my adventures, but also so I can remember the amazing days climbing 48km to reach Machu Picchu when I am back to day to day life.
Day 1 – 30th October 2016
We started early getting picked up at 5.30am but didn't get trekking until after lunch because there was an issue with our porters not showing up, so the poor guys we had were working 4 days on another trail and didn't even get to go home before starting the 4 day shift with us. These guys can only be described as superhuman. Each day they do the same trail as us but with 30Kg of backpacks and equipment, oh and they run a lot of the way too. The oldest guy we saw was 71 years old and he was in great shape.
Day one I found really good, undulating but was managing to keep a really good pace and was great to get started. As with the whole trip I had nervous anticipation but once I got going it was great. So we finished in the dark at camp around 6/6.30pm. I took advantage of the offer of a hot shower, which turned out to be cold, I love a hot shower and the facilities added to the challenge of the four days but embraced it and didn't worry too much. We had dinner and good to get chatting to the group. We had a great group from my Exeter friends (I played a great third wheel on the trip) and Caroline & Art from Minnesota, to the London boys (Gang, gang, gang), South African super speedy Dylan to the Canadian crew it was great.
The guides really made it enjoyable, great banter with Hennry and William Wallace, which of course I shortened to Wallace. Nice to have a fellow countryman with me in spirit. Their fitness and banter kept us all motivated. It was good to have a mixture of ability and people. We had great team spirit, Hennry named us Pachamama's (Andean God) sexy children!
So if we were being rounded up we would know it was us haha! Funny to be part of a team for four days as a lot of time I am leading workshops so it was refreshing.
Day 2 – 31st October 2016
Each day we had an early start usually as 5.30am wake up. Day two we were warned was going to be tough. Nothing prepared me for the 6 hours of uphill to Dead Woman's Pass, the highest point of the trek at 4200m. I did a lot of it with Caroline in the afternoon and that was brill to have someone to chat too and keep spirits up.
It was fairly cool in the afternoon so that was god send as balancing heat and altitude would have been fun. Key thing with the altitude on day two was the shortness of breath as I got higher up but it was manageable by taking regular breaks. I was feeling really bad for the guys who didn't get a porter and they carried all of their own backpacks, can't imagine how tough that would have been. I have never been known for my guns so didn't give a second thought to paying for a porter. The uphill was followed by steep downhill which felt more technical but much easier on the breath.
Boy oh boy was night two cold, a single tent seemed a good idea until I couldn't feel my fingers and toes. I didn't sleep much that night which made day three really tough. The half way point here and overall it felt like it went quickly.
Day 3 – 1st November 2016
This was meant to be an easier day than day two but for me it turned out to be a killer. I was sick in the morning and feeling awful, I think a combination of altitude, lack of sleep and the 'minging' toilets probably made me feel so rough. Feeling so sick meant that the uphill couple of hours felt horrific. If there had been a bus or a train at that point I would have been on it, so I am glad that I had no option as by our break at the Andean ceremony point I felt so much better.
The Incas talk about their mountains having souls and being pivotal to their beliefs so the ceremony was great to be involved in their culture. It ticked a lot of boxes for me in terms of being mindful of where we were and my spiritual side. It was great we had time to do the ceremony as Hennry said that it is not always that his groups make enough time to do it.
The afternoon felt much easier and felt like I was right up there again with top half of the group. It was a huge relief and made me reflect on how far we had travelled, the altitudes and the amazing things that we had seen. The group did really well as it was hot but a mixture of up and down made it nice and the views were breathtaking. We were all getting excited as we got to within touching distance of Machu Picchu.
Our final meal was good to finish the trip off and get some craic with the group. It's funny how close you get to people over such a concentrated period of time together, it did feel like a family. The guys were really good when I wasn't well and it made me feel much better knowing people were there looking out for me too. We had an early night with great anticipation of our 3.30am wake up call for the last leg.
Day 4 – 2nd November 2016 – I MADE IT!
I was awake quite a bit of the night with the rain battering down on the tents. The last day got off to a slow start waiting in a queue from 4.10am to 5.30am to be let through the last check point before Machu Picchu. It was raining but luckily we got shelter and dug deep until we got going. It was a quick pace on the final day, we were a bit anxious at the sungate as we couldn't see a thing but Pacha Mama shone on us and by the time we got to the classic viewing spot it was gorgeous. It was at this point the official 48km Inca trail finished. As Hennry gave us all a high five I felt myself get a bit emotional day. This was it, we were here, I had wanted to visit Machu Picchu for the last 9 years and I had made it. I proceded to leave my good jacket at the point and added an extra 60+ steps uphill when my legs were already on fire.
Then we got to enter Machu Picchu. It is quite incredible to walk around and we got a great tour telling us of the farming, incas, observatories and spiritual capital of the Incas. It really was all I imagined and so much more. I am so proud to have completed the trail and visited one of the seven wonders of the world. The scale and intelligence behind Machu Picchu is phenomenal, I am in complete awe of the culture too. I loved the ethos of the Andean people where family come first, to love what you do and to help other people. I felt very at home.
We went back to Los Calientes to have some food and a few drinks, after two Pisco sours I was feeling it after the exertion of the last few days. Then the four hour journey back to Cusco where we most definitely frangranced the train after four days of little showering. I got back to my accommodation and was so happy to get a shower. Also, great to chat to all my loved ones back home, been missing you all.
As you will tell from my blog it was tough, but as with most things in life the best things often come after tough climbs and this certainly was one of those moments. It's something that will live with me for years and year and I hope to be boring my grandchildren with my adventures on day. I am blessed to have met so many great people along the way too. So great we have Facebook to share photos and for keeping in touch. A huge thanks to our guides Hennry and William for making it great fun and thanks to all my new friends, especially Lauren and Max who took me under their wing for a lot of the trip! See you in Exeter or Scotland soon.
Now for another few days of adventures, but first stop feet up, warm showers and RELAX!
16/11/16 – Reflections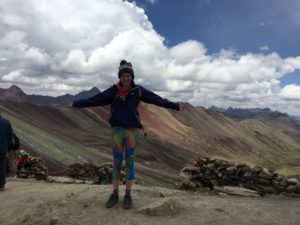 Wow what an amazing adventure. I have been home for a few days now and everything I saw and did is  starting to sink in. My final adventure was Rainbow Mountain and boy was that tough. I climbed to an altitude of 5200m. It was hilarious, from a mile in I was being offered a horse (because, Miss you look tired haha). I took it steady and refused the horse the whole way haha – stubborn as ever. Rainbow Mountain was well worth seeing, however, if you had asked me that half way up you may have got a different answer. This challenge was a great end to what was a holiday of adventures and tests throughout.
The entire trip was amazing, I wouldn't change the opportunity for anything. Well I would swap the beautifully sunburnt calves I am currently sporting, 3/4 leggings on the last day left me with two lovely red legs to remind me of rainbow mountain. Oh and the 18 hour delay in Colombia en route home, due to a crash on the runway! It was all part of the adventure.
Having time away from my normal surroundings, home, work and your loved ones was great and tough all rolled into one. I am delighted to be back home and to have seen everyone again, I have a few days before getting back into things full pelt so I am using the time to catch up.
I learned a great number of things on the trip and wanted to share some of these:
When you set your mind to completing something, obstacles will always test you, but if you dig deep you will get there
Pace yourself!
Accept help – on day four of the trail strangers had become very good friends and helped me achieve my goal!
My loved ones are so important to me – missed everyone so much!
It's time for more balance in 2017 – work and play are equally important.
A clean toilet should never be undervalued
You can have too many carbs (Peruvians love their bread, potatoes and rice at any time of day)
Thanks for all your support, I really appreciated your messages when I was away. See you all soon.
Adios Amigos! x