Webinars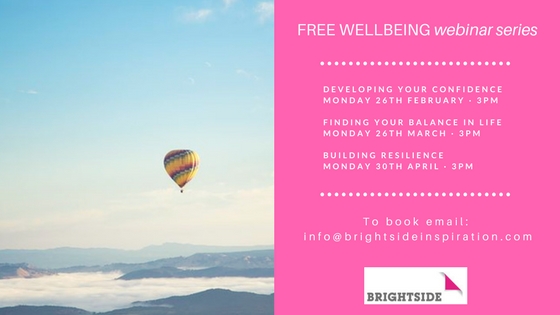 We were delighted to have so many people share interest in the first Brightside Wellbeing Webinar on Health and Happiness, it was great to share some practical advice and tips. Some of the feedback from the first webinar included:
      "I thoroughly enjoyed your Webinar and found it all so very inspirational. I took the time out to reflect after the session and have given          myself some actions. I loved the GROW concept….this was the first time I'd seen this. You were fabulous throughout".

      "I found of most value was the reference to the House of 4 Rooms".
      "A really great use of an hour which has got me focused on the areas I need to focus on in my life for 2018".
We have now created three more 60 minute webinars to bring to you over the next three months, these are available for FREE and reserved on a first come first served basis, numbers are capped at 25 people per webinar. Please feel free to share this opportunity with your team/network as you see appropriate.
Purpose of Wellbeing Webinars Series
Brightside are passionate about supporting individuals to have the confidence to be at their best. We believe your wellbeing and focusing on this is fundamental to you achieving your potential and we want to share some advice and practical tips that are accessible to all.
Booking Upcoming Webinars
If you would like to book on any of the below webinar sessions please email
info@brightsideinspiration.com
and we will send you the joining instructions ahead of the webinar.
Developing Your Confidence:    
Monday 26th February at 3pm
Finding Your Balance In Life:    
Monday 26th March at 3pm
Building Resilience:                   
Monday 30th April at 3pm