12 Day Action Series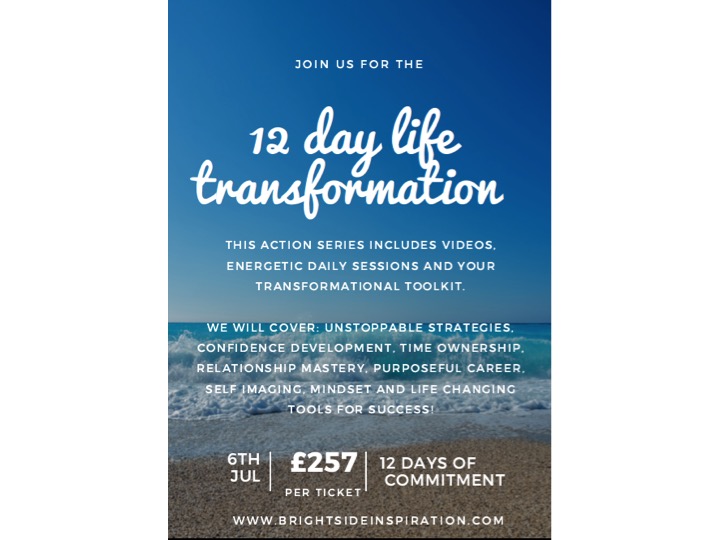 We were delighted to have so many people share interest in the first series of Wellbeing Webinars on Health and Happiness, Developing Confidence, Finding Balance and Building Resilience, it was great to share some practical advice and tips. Some of the feedback from the first webinars.
      "I thoroughly enjoyed your Webinar and found it all so very inspirational. I took the time out to reflect after the session and have given myself some actions. I loved the GROW concept….this was the first time I'd seen this. You were fabulous throughout".

      "I found of most value was the reference to the House of 4 Rooms".
      "A really great use of an hour which has got me focused on the areas I need to focus on in my life for 2018".
Purpose of 12 Day Action Series
These action orientated videos and materials are a great place to start for anyone who:
Feels stuck
Is in need of a change
Is unsure of your next steps
Wants more confidence
Has a desire to improve a relationship
Is seeking more direction in their career
So many of our coaching clients and customers have commented on a need for more online content from us, resources that will help individuals build momentum at home and once coaching sessions/workshops have been completed. What better way to do this than respond with a 12 day video action series which covers the topics of:
Setting Successful Goals
Mindset
Confidence
Developing Purpose
Daily Habits
Time
Relationships
House of Four Rooms
Mindfulness
Physical Health
Energy
Creating Your Action Plan
Booking the 12 Day Action Series
If you would like to book onto the 12 day Action Series please email 
info@brightsideinspiration.com
and we will send you the joining instructions and invoice for the series.
** FREE** Wellbeing Webinars
We ran a series of online webinars over the last few months and these were free for people who signed up. If you would like to access the recordings please email: info@brightsideinspiration.com and we can sign you up to receive these or go to the Contact Page.